Gilbertd wrote:
I can't see it being any more difficult than mine. Tow hitches should be at the same height so a trailer sits level no matter what is towing it and the pic that Dibbles posted has the filler above the height of the ball which, in theory, should make it higher than mine. I do tend to fit the filler gun upside down if I've got a trailer and am filling with a pump on the right so the hose goes over the trailer hitch.
Good point about tow bar heights being the same but I can still see a filler fitted hidden behind that plastic cover being more difficult to use than yours.
Anyway, just had another look at Dibbles picture and it seems there isn't a fill point in Dibbles pic at all... what looks like it might be a threaded fill point (to accept a threaded adaptor) might actually be the X5's removable towing eye bracket, I've just taken a couple of pics of the X5 I've got in the yard at the moment, the pic below is a bit clearer than Dibbles pic and shows the towing eye fixing point.
And below is a side view of the back of the car. Even in this pic it seems if a bayonet filler were fitted hidden behind (again actually in front of) the plastic trim cover then access wouldn't be great. Might not even be able to use fill guns with hand shields because the bumper might be in the way. Would in any case be reaching below rear bumper to attach fill gun, not much clearance between fingers and bumper.
[/URL]
When I first started fitting fill points at the rear of X5's I took vehicles to forecourts with Gas Guard and De Visser type fill guns and spent a fair bit of time measuring up before concluding that to be practical the filler should protrude from the plastic towbar trim cover. Distance from the towing eye bracket to rear of bumper is 6 inches, a filler couldn't be mounted much further towards the plastic trim than the towing eye without having to cut some of the plastic trim cover out, if you cut a section out of the plastic trim cover out off-centre then it wouldn't clip into position properly (held in position with 2 plastic lugs and 2 metal clips all off centre near where you'd be doing the cutting).
I'll start suggesting rear off-centre hidden behind plastic trim cover long adaptor type fillers for X5's as an option, particularly where the owner wishes to use a towbar. But due to the fiddly fill procedure using this type involves I'd still expect owners who say they won't use a towbar to prefer the central fixed filler that protrudes through the plastic trim, is easily accessible without removing trim and doesn't use a long screw-in adaptor. Depending on type of towbar, even an off centre mounted filler may be impossible to use with towbar attached - the towbar on this X5 isn't the usual ball on a bar removable type, it has the electrics/guard mounting flange which might partly obscure an off centre fill point.
Many customers prefer rear mounted fill points, usual reasons are neatness/discretion, to avoid making holes in the vehicle body and to allow filling from either side of the vehicle. Perhaps particularly suited to X5's, but maybe only when the towbar isn't going to be used else the long adaptor type filler must be used (reach under bumper to screw in adaptor... or if a normal bayonet protrudes through the plastic cover how would we make the plastic cover still removable?) and when the towbar isn't in use the plastic trim panel needs to be removed for filling. Worst case scenario would be the towbar itself (not just trailer) need be taken off before filling...
Unless the customer would prefer the usual 70mm round housing type fitted in the wing...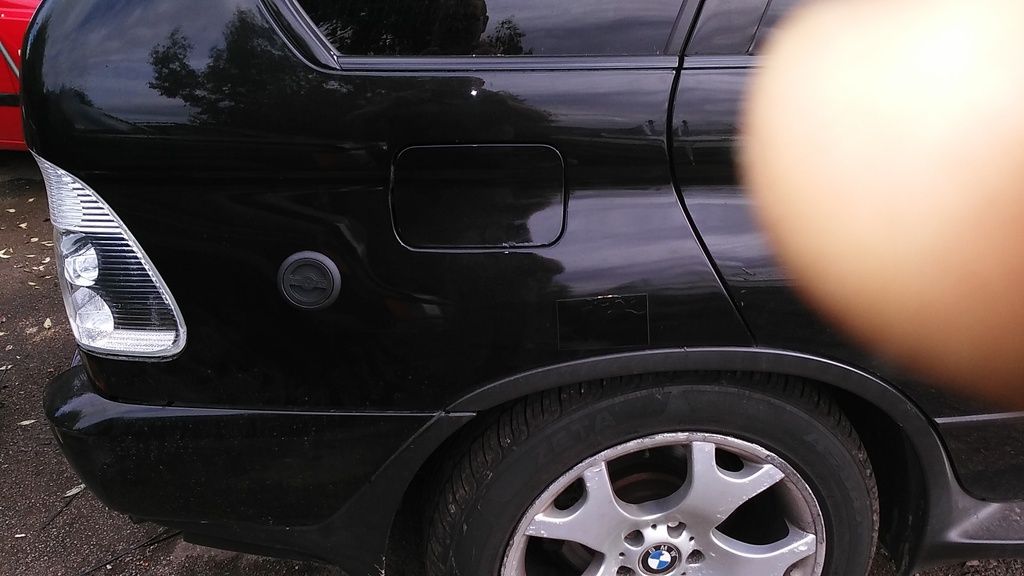 Simon
_________________
Full time LPG installer
Servicing / Diagnostics / Repairs to all systems / DIY conversion kits supplied with thorough tech support
Mid Yorkshire
2 miles A1, 8 miles M62,
http://www.Lpgc.co.uk
Twitter
https://twitter.com/AutogasSimon
07816237240