Who thinks this will work ???
I decided to have a go at using some of the Rover parts in a home made mixer fitting to go between carb. and air filter.
Here's the carb (this one on the engine is slightly different from the spare top cover I photo'd earlier).
Notice the "O" ring I have fitted round the top - the new mixer fits snuggly onto that.
Here's the mixer I made (it ain't pretty but I can soon tidy it up if it works).
Funny how it looks like a smiley robot face - LOL
The bit that looks like the robot's mouth fits around the float bowl vent so (hopefully) it doesn't get sucked on too much by the air stream passing through the mixer.
I put a central divider between the Rover "mushrooms" so the air flow should be more centralised around each one instead of just blasting down between them. I reckon I may want to shape the passages a bit more (which will be like giving the robot some eyebrows) but I'll try it like this first.
Here's a photo from underneath - the cut out in the center divide is to clear the choke flap: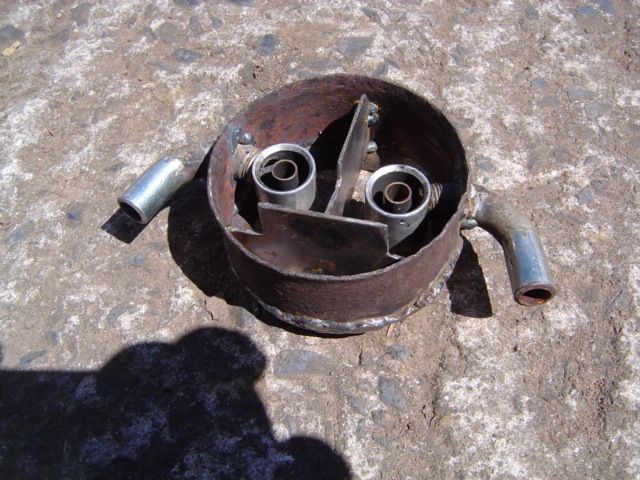 And here it is on the carb - the filter box is attached by a bolt through a stiff wire loop so I'll need to make a longer loop to fit through this: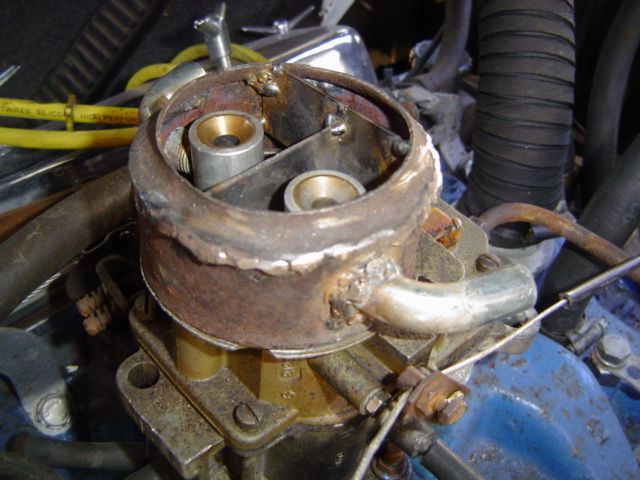 So - who thinks it will work ??
Also, as one of my next jobs is to find a place for the vapouriser, can you remind me which way up it should go (BRC AT90E). I'm assuming I mount it so the writing on the front is the right way up.
Also, also, the vapouriser has a threaded hole in the back with nothing in it - is this just to pick up atmospheric pressure ?
Final question - I've seem some flexy high pressure LPG pipe on ebay - is it OK or do I go with copper?
Any other comments etc. are welcome of course
Cheers
Steve