---
Recently mentioned on forum I was converting this car.
Merc C65 AMG 6L V12 Bi-Turbo modded with straight through exhaust, bigger intercooler and chipped. Standard is over 600bhp, this one makes 800bhp! 220Mph on the clock and it may just about reach that speed because it's had the speed limiter disabled.

I forgot to take an overview image of the car but I did find a pic of this specific car on the internet, here it is...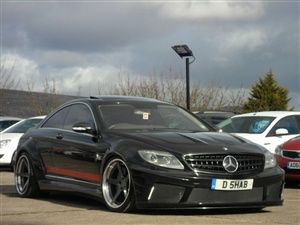 LPG system spec: 2x 80 litre tanks (one toroidal, one cylindrical) both with 8mm outlet valve, separate Faro pipe runs go between each tank and a reducer, there are 2x Romano reducers, each reducer feeds 6 discrete MJFX injectors... So 2 tanks, 2 reducers, 12 injectors, 2 ECU's. There are no balance pipes anywhere on the system, that's the best way to go on this install (will explain why if asked). 2 X ECU's are KME NEVO, the owner wanted a single changeover switch fitted so the ECU's are networked together to be controlled by the single switch.

Fully converted engine, not quite ready to hand back to customer when I took this pic at the side of the road... but you can tell it's going to be tidy, I just had a bit of fetling to do with the under bonnet Faro and fuel return system. This install would probably have to be tidy anyway, as long pipe runs etc wouldn't have worked. While on the subject of fuel returns - As usual after fitting a fuel return I kept close to base at first during calibration pending further road side checks. During such check I found the pipe supplied with an off the shelf fuel return system was ballooning under the car's very high 540Kpa petrol pressure, so I drove immediately back to base and swapped the pipe to much thicker and stiffer 8 bar rated stuff, which took some persuading and heating to fit. Not really the fuel return supplier's fault as pipe supplied is only meant to run on the low pressure side between fuel jet and tank - but would think a lot of people wouldn't think twice about fitting and forgetting the same stuff even on the high pressure side and even on cars like this... On these cars the flexible pipe between body and engine is steel braided, it wouldn't be a good idea to remove the braiding to cut the flexible pipe. I cut the foot long flexible link pipe that runs between the body and the engine, because it just bolts in so could easily be replaced, but I cut it on it's solid pipe section not on it's flexible/braided section.

The car idles with 2ms Pinj at 540Kpa petrol pressure which is not manifold pressure referenced, making setup/calibration a bit more difficult than it otherwise would have been. Before the turbos kick in the petrol injectors pulse for only 7ms with manifold pressure at atmospheric. Given this info I knew very high flowing LPG injectors along with high LPG vapour pressure would be needed. The MJFXs have 3.2 nozzles and the Romano reducers will go to way above 2 bar, they will also flow a lot of gas, are quite small physically and have a handy piping arrangement. The KME ECU's would be capable of petrol addition if necessary and have the master/slave ability - the owner only wanted the one change-over switch.

This is the fully LPG converted engine bay, you cannot really see any LPG components except for the ECUs beside the battery and the petrol return system.



The engine bay looks a bit tight in the above pic, and it indeed is rather tight. There wasn't even space to fit the 2 reducers in the area between behind the front bumper forward of the osf wheel (like I have on Merc C V8 AMGs... I advised someone else on this forum about that location too) but I found another neat location on this model.

Despite the engine's fairly daunting appearance from an LPG conversion point of view, an engine.....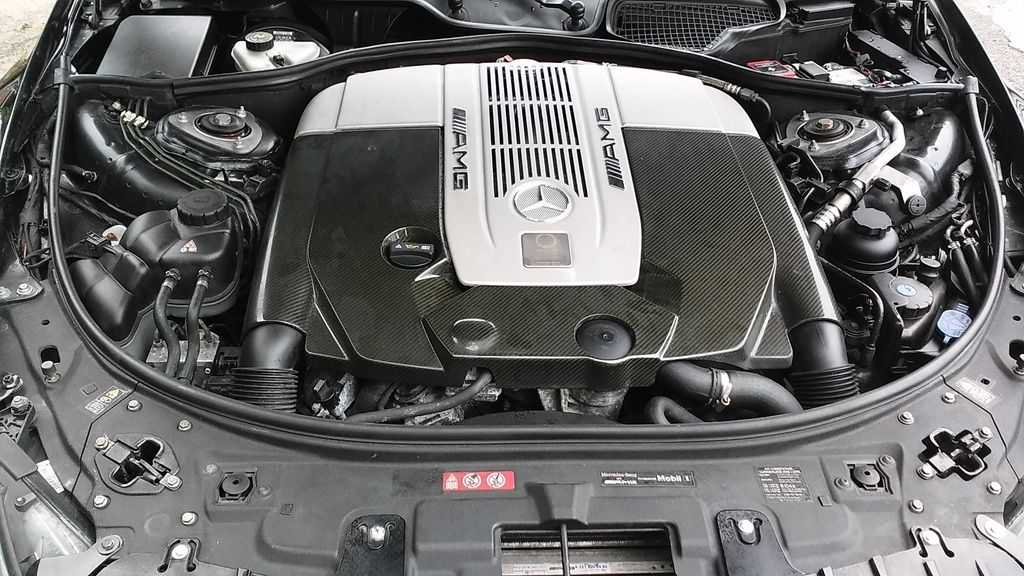 is an engine...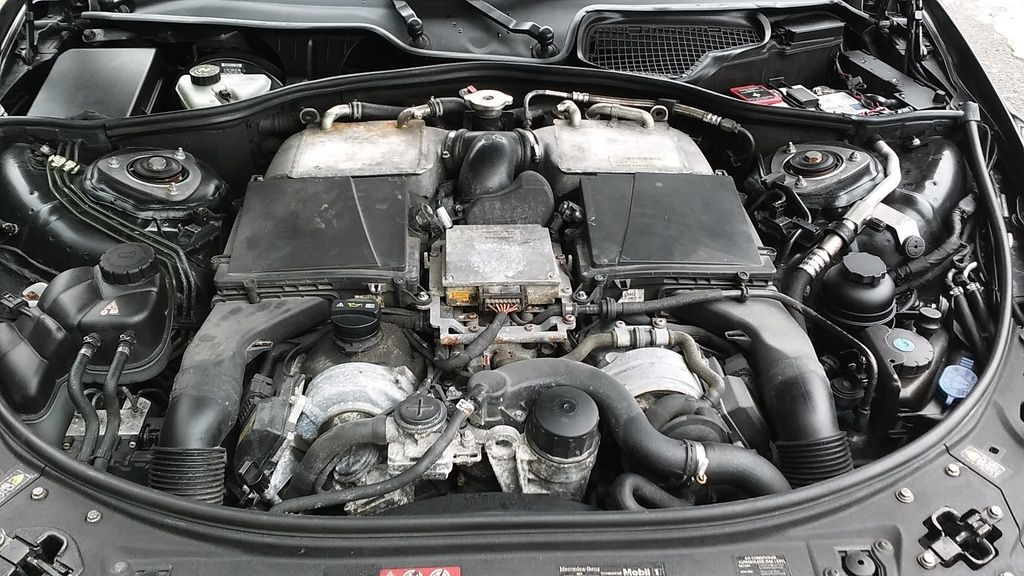 is an engine... and with the charge coolers and air filters removed it looks like a 60 degree V engine again, not daunting at all except for the lack of space to route pipes, fit injectors etc on the engine and fit the other components e.g. reducers and ECUs. The turbo manifold doesn't have anything like the length of normally aspirated engines inlet tracts, so particularly on this engine spuds must be mounted very close to petrol injectors else gas supposed to go to a discrete cylinder will go into the plenum and be distributed between cylinders.




I thought I'd taken pics of both tanks, seems I only took pics of the toroidal tank fitting in progress but you can see the vent pipes leading to the cylinder tank.



Oh yes, when the car arrived it may not have been making it's full 800bhp potential as I found there was no coolant fluid in the charge cooler system. I reckon there was a leak, notable by the stain shown below, which I fixed by attaching coolant pipes properly and water-tight when re-installing the water/air charge coolers and topping up the charge cooler system coolant. Sore fingers as usual doing this job!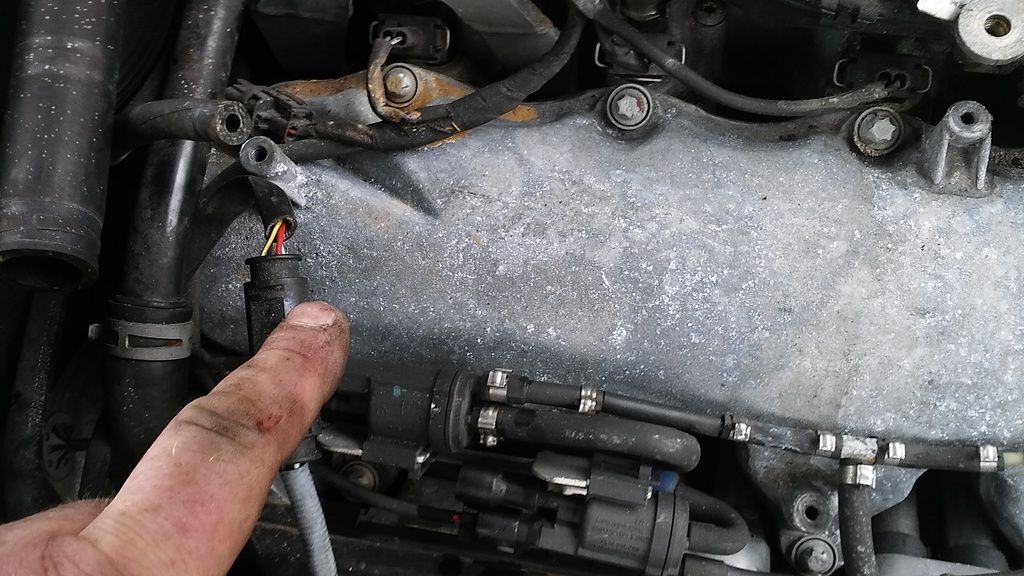 [/URL]

So where are the reducers! Again I must have forgotten to take pics of the final reducers install and plumbing but even if you don't read this bit there's a clue in the pic below (though you can only see one in place not yet fitted or plumbed in in the pic). You can't see anything of the reducers with the front grill in place but they don't obstruct airlfow through any radiator(s) because they are directly foreword of a tall cross-member that spans the width of the car. The pic may be deceiving, or at least the final reducer position is in front of the cross-member not obstructing the water/air upgraded charge cooler rad (bottom in the pic).




The car will run totally on LPG even at full throttle when it's making 800bhp.

Easy life this week, just converting a 6.3 V8 AMG with a 'mere' 500+ bhp for a different customer and repairing a few duff installs recently fitted by other installers. For the same customer as the V12 bi turbo AMG I previously converted a few other AMG's, like his wife's CL55AMG 5.5 supercharged V8, and his own 5.5 none supercharged V8 CL AMG, fairly easy in comparison to the V12 bi turbo. Owner reckons one of the reasons he decided to buy the car was because I seemed enthusiastic about converting it! Looks like the ML I'm on with now will need a return too, but I may try to get hold of a fitting to screw onto the rail's pressure test/bleed valve because the flex section of pipe between the body and engine isn't a discrete component, it is permanently attached to the steel pipe to the fuel pump. I already tried every strange type of fitting I have and couldn't find anything to fit the fuel bleed valve though...Anyone any ideas where I might get a pipe tail that will fit the fuel rail pressure test/bleed valve? Thinking about buying a generic fuel pressure test kit (with many various adaptors about £55) and donating the Merc hose tail that comes with the pressure test kit to this LPG conversion.

Simon